Alabama Family Law 2017: The Attorney's Essential Update
Live Webinar: Tuesday, March 28, 2017
10:00 a.m to 11:00 a.m.
If your practice involves family law in Alabama, you're probably pretty busy. After all, Alabama's divorce rate is above average. But are you completely current with all the latest changes?
For years, Alabama was one of the few states to recognize common law marriages. That changed this year. 
Retirement benefits are now a major part of a couple's assets. 
Courts are looking at how alimony can transition a spouse following a divorce. 
Same-sex marriages are now recognized. 

How will such changes affect your practice? Join your colleagues for a 60-minute CLE webinar and you'll benefit from a valuable analysis of the impact of these developments, and a look at how to incorporate them into how you counsel clients and approach cases. Your presenter will look at common law changes as well as statutory changes in Alabama's marriage and divorce laws. She will provide solutions to the new challenges these changes will bring. 
Agenda: 
Common law changes 
Retirement legislation 
Alimony/transitional support legislation 
Same sex marriage (its effects on health insurance, common law, etc.) 
About Your Presenter: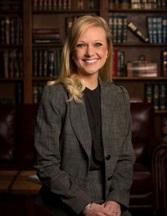 Alyson Hood Rains practices law with The Bloomston Firm in Birmingham. She concentrates her practice in the areas of federal and state civil litigation including constitutional law, civil rights, employment practice, sexual harassment, personal injury, and divorce.
Ms. Rains currently serves on the Alabama Women's Section Executive Committee and Birmingham Bar Scholarship Committee. She is co-chair for the Alabama Family Law Section. She is also a member of the Birmingham Young Lawyer's Section and Birmingham Inns of Court. She is a frequent speaker on the areas of constitutional rights violations, sexual harassment, hostile work environment, common law marriage, and the use of private investigators in domestic relations litigation.