Employee Conduct and Privacy Rights: How to Counsel Clients on Enforcing Effective Policies While Limiting Liability
Live Webinar: Wednesday, June 27, 2018
10:00 a.m. to 11:00 a.m. Central / 11:00 a.m. to 12:00 p.m. Eastern
---
WEBINAR SNAPSHOT: Learn how to help employers ensure that their employees adhere to company policies regarding safety, security and professionalism, while avoiding liability for interfering with employees' privacy rights or protected conduct.
---

Employees in the United States view privacy as a fundamental right. Tennessee and Alabama both recognize all four common-law invasion of privacy claims: intrusion upon solitude or seclusion; public disclosure of private facts; false light privacy; and appropriation of one's name or likeness. There are many situations in the employment context that could give rise to an invasion of privacy claim and expose an employer to liability.
As an attorney representing employers, you have an obligation to:
counsel clients so they have the necessary policies, procedures and safeguards in place to protect confidential information and create a work environment that is safe, secure, and professional; and
help them strike a balance to avoid liability for interfering with employee privacy rights and or being exposed to claims of retaliation for participating in protected conduct.

This one-hour webinar will cover current issues such as employee termination and mitigation of liability.
Join us on June 27, 2018, when Rachel Barlotta will take you through critical legal issues such as employee plans, hiring and firing, and preventing claims of retaliatory discharge. Don't miss this opportunity to learn techniques to help your clients avoid liability!
About Your Presenter: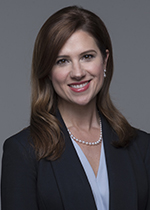 Rachel V. Barlotta is an employment attorney with the national law firm of Baker Donelson Bearman Caldwell & Berkowitz, PC. For over a decade, Ms. Barlotta has been practicing almost exclusively in the area of employment law. She has successfully defended companies and managers in legal actions in all types of employment cases, including matters involving discrimination, retaliation, work-place harassment, wage and hour, family and medical leave, and non-compete agreements. Ms. Barlotta was recently recognized for the second year in a row by Alabama Super Lawyers as a Rising Star in employment law. In addition to defending employers in court, she represents employers in administrative actions involving the Equal Employment Opportunity Commission, the National Labor Relations Board, the Department of Labor, and the Alabama Department of Industrial Relations. Ms. Barlotta also frequently provides training to employers and professional organizations on current legal issues in employment. She is admitted to all Alabama state courts; the U.S. District Court for the Northern, Middle and Southern districts of Alabama; and the U.S. Circuit Court of Appeals for the Eleventh Circuit. Ms. Barlotta earned her B.A. degree from Samford University and her J.D. degree, cum laude, from Cumberland School of Law, Samford University (Birmingham location).